Commercial Security Solutions Backed by Qualified Personnel
Allied Universal®, a leading-edge security company, provides clients across the country with proactive commercial physical security services, experienced security personnel and cutting-edge smart technology to deliver evolving, tailored solutions that minimize their overall risk. Our collaborative approach will give you the peace of mind you need to focus on what you do best…your core business.
While we are a large global company, our approach is local and nimble in execution—built on a foundation of local presence and leadership. In Canada, we have an extensive network of offices to support our communities and customers. We take pride in our extensive knowledge in a range of specialty sectors such as government, data centres, logistics and transportation, higher education, commercial real estate, retail, etc.
As your trusted physical security partner, we believe there is no greater purpose than serving and safeguarding our communities, assets and people. Allied Universal is There for you®.
Interested in Allied Universal® commercial physical security services for your organization? Contact a security services specialist or call 1.888.717.4447.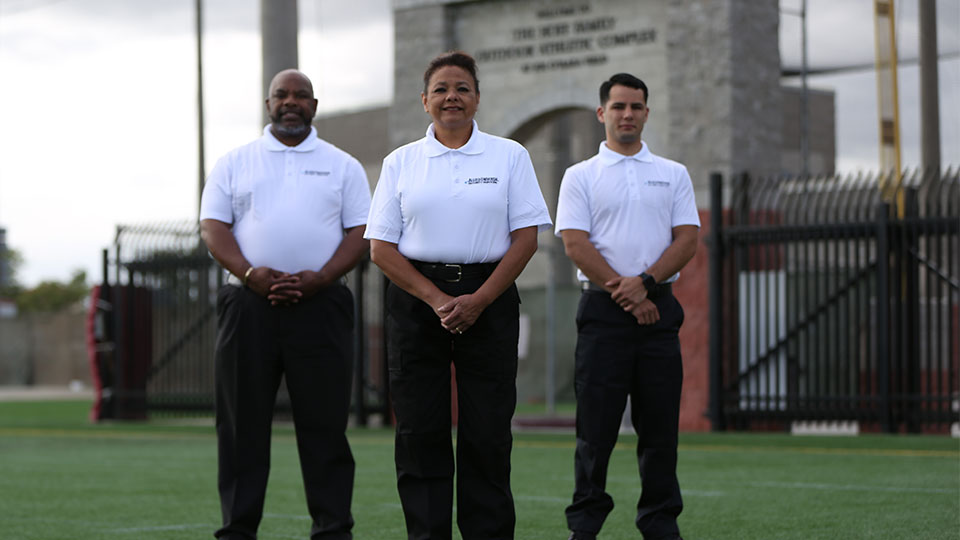 Physical Security Services You Can Trust
Industry-leading training, a proprietary recruitment strategy and a commitment to customer service are at the heart of our business. We deliver on our promise to provide teams who are carefully screened, selected and trained to understand the unique environments in which they work.
Our physical security and security personnel services include:
Uniformed Security Guards

Security Patrol Services

Concierge Services

Mobile Patrol Services

Risk & Threat Analysis

Investigations

Executive Protection
Our Approach to Securing Your Business
At Allied Universal® we provide the people, processes, equipment and customer service you deserve and expect from a trusted partner, backed by 24/7/365 access. When you need us, we are There for you®.
It starts with our team of carefully screened and highly trained security personnel, who provide you with the services you require—but it's our collaborative approach that sets us apart. Your physical security needs are provided at the site-level by a local team with 24/7 availability. Each team is backed by the support of a branch office, an established Canadian team and global organization that uses proven methodologies in recruiting, training, customer service and quality assurance.
We will expertly manage your account and manned security program with a local team that knows your security needs and the communities in which you operate. Your local team is supported by accessible, accountable management resources that focus on quality and response. In addition, we provide a proprietary web-based client portal that gives you access to your account when and where it's convenient for you.